The indoor air quality (IAQ) of your New Jersey house should be a top priority for families and homeowners, but many people don't understand that common health issues they experience in their homes—from headaches to coughing and sneezing or other allergy-like symptoms—can be traced back to pollutants and contaminants inside their home, including:
Pet dander

Dust

VOCs (off-gassing from household cleaning products)

Bacteria, germs and viruses

Mold

Pollen
Air Scrubber, an air purification system from Aerus, is a great way to help clean up your air and make sure that your family is healthy and safe inside your house. 
How Does Air Scrubber Work?
The Air Scrubber is a device that's installed inside your central ductwork. As contaminants in your air pass through the air scrubber, powerful UV germicidal light works to scramble the DNA of any pollutants, effectively eliminating them from your air.
But the Air Scrubber doesn't just treat the air pollutants that manage to make their way into your duct system. It's unique design actually creates oxidizers (clusters of hydrogen and oxygen) that are sent out into your home to help reduce contaminants on surfaces throughout your home as well.
Air Scrubber Has Been Tested to Be 99% Effective
We've already been fielding questions from local homeowners asking if the Aerus Air Scrubber is effective in fighting the SARS-CoV-2, the novel coronavirus that causes COVID-19, which is an RNA virus. New developments and studies have confirmed that the Air Scrubber by Aerus now kills COVID 19! The testing data conducted by independent Food and Drug Administration-compliant laboratory, established a 99.98% surface kill rate of live SARS-CoV-2 virus in seven hours. SARS-CoV-2 is the virus that causes COVID-19. 
The ActivePure Technology it utilizes has been tested on other RNA and DNA viruses and, according to the manufacturer, has shown to be 99% effective in reducing surface contaminants including H1N1 (swine flu), H5N8 (avian bird flu), and Hepatitis A over a period of 24 hours.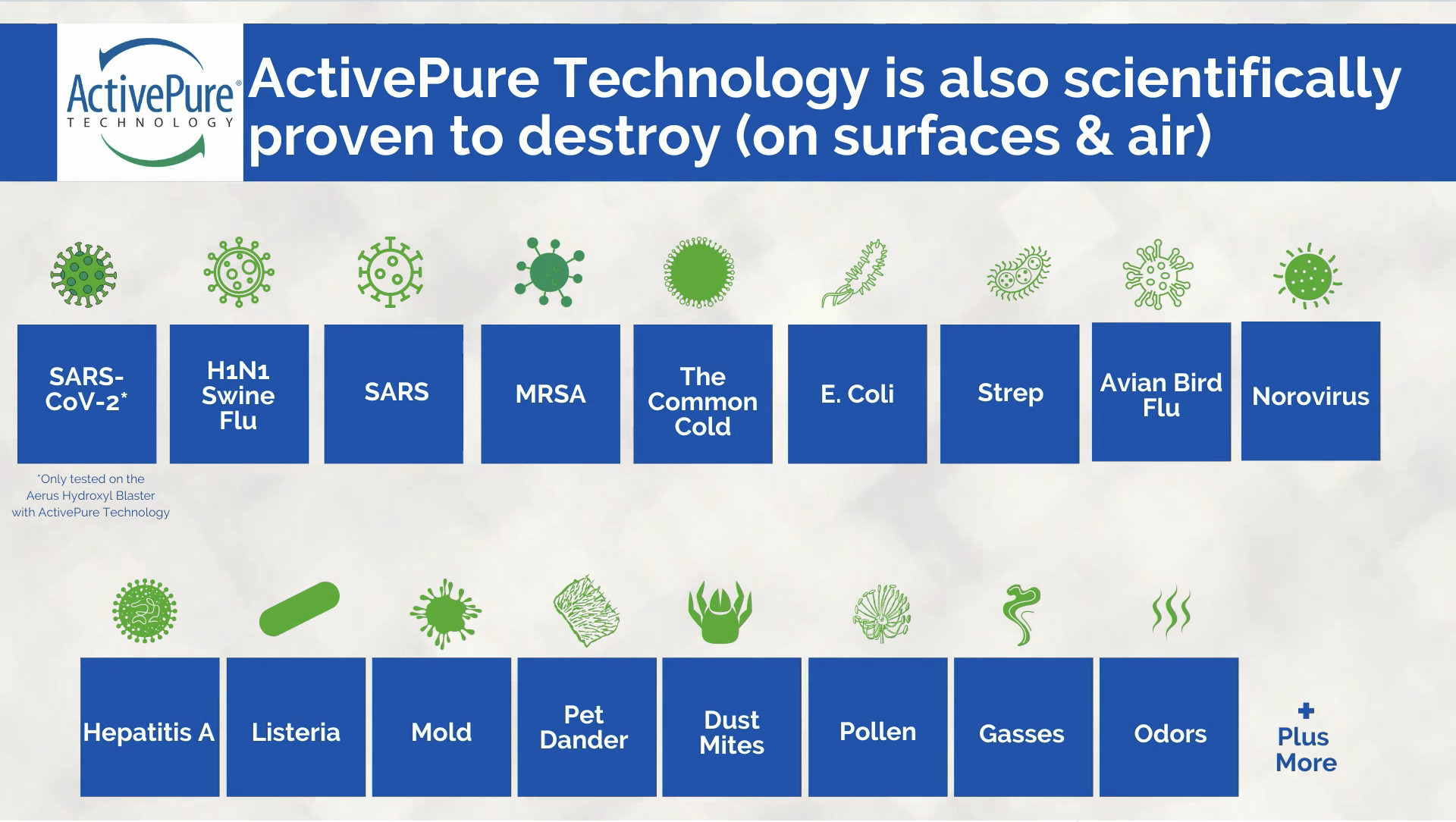 The Air Scrubber is a great way to compliment other health and safety precautions you and your family should be taking to stay safe and healthy in and out of your home, including all of the CDC's COVID-19 recommendations. 
Princeton Air offers a number of IAQ services for your Princeton area home, from air purifiers like the Air Scrubber to air duct cleaning, humidifiers and dehumidifiers, ventilation systems, and more. Give us a call if you're interested in testing the air quality in your home and making your indoor air cleaner and healthy for you and your family.
Clean up your indoor air quality with an Air Scrubber from Princeton Air. Call or contact us to learn more about this air purifying technology.
Exceptional service and decades of experience makes for lots of happy, comfortable customers!