Looking to replace your air conditioning?
Talk to Princeton Air about a new Trane AC.
Regular AC maintenance can help squeeze extra years out of your cooling system, but eventually, you'll need to replace your central air conditioner.
An older AC unit is likely to require more frequent repairs, and if those repairs are more than half the cost of a new unit, you should upgrade.
High monthly energy bills are another sign that your unit is old and inefficient.
New Trane air conditioners from Princeton Air provide long-lasting, high-efficiency operation for many years to come. Upgrade your home with a Trane AC from Princeton Air.
Exceptional service and decades of experience makes for lots of happy, comfortable customers!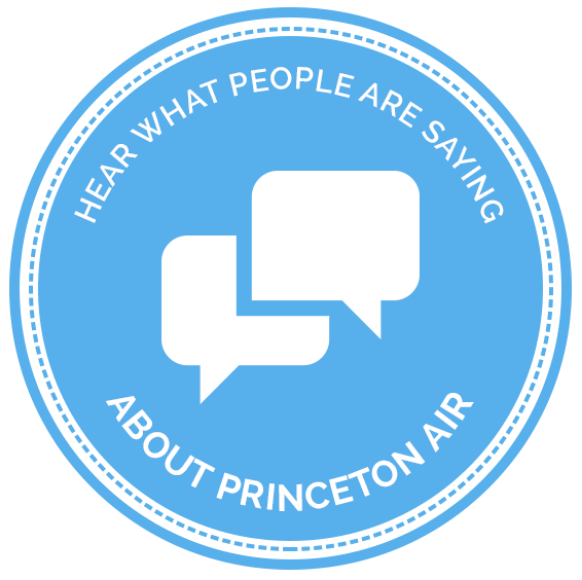 Quality workmanship and premier customer service are hallmarks of Princeton Air in NJ. In the last 12 months I replaced two Lennox central air conditioners with new Lennox units and due to Hurricane Irene a new Lennox furnace. I have spent over 20K…

Read more

I want to let you know that I had a chance to inspect the work you guys did for Pat Palmer and Mark Widmer. When I replaced a bathroom fan for them, I had to remove some drywall from their bathroom ceiling where Princeton Air had installed dense…

Read more

The house is performing wonderfully. The gas usage for November and December was 247 therms. The gas usage for last December alone was 248 therms. The family room, where we spend a lot of our leisure time, is much closer to the temperature of the…

Read more

Princeton Air personnel provided us with an energy efficient heating/air conditioning system that worked without current heating challenges. We were very happy with the service. The installers showed up on time and were clean and courteous and they…

Read more

Princeton Air and Eric saved us from another cold night. You were there when PSE&G was not. Thank you.

Technician was cordial, polite, & professional.

I just wanted to say how impressed and extremely happy I was with Princeton Air. The professionalism, courtesy, and the attention to detail of Matt, Jimmy, Nelson, and Wes was both refreshing and much appreciated. I noticed that Princeton Air used…

Read more

Returned home at 5:00PM last evening after being away for 2 plus weeks to find the furnace completely shut down...no heat, 48 degree temp in the house. Asked if someone could get there that evening and was advised that Eric, a Service Tech, was…

Read more

Sam got the bat out of my air conditioning vent in the master bedroom! Never complained. He also spotted a clogged pipe leaking in the attic from the unit. Replaced it quickly. Nice guy. Courteous and friendly. I appreciated his cheery demeanor…

Read more

We experienced a warranty issue that caused my ceiling to become water damaged, Sean's ability to stay calm helped me to calm down as well. I think it was his polite demeanor that caused me to remain a customer of your Company.

Milton called on us today to do an annual service on our air conditioning system. I found him to be very competent and knowledgeable. He worked quickly, but he explained things as he worked and gave me good advice. He was very thorough and…

Read more

Regarding Paul, Jason, and Mark - Princeton Air is a wonderful company. We really appreciate all they did for us.

I have been more than pleased with your technician, Mike. He is always very professional and allows me to call him directly to place a service call. He always responds to the service calls in a timely manner and is wonderful in dealing with the…

Read more

I just wanted to let you know how pleased I was with one of your techs Eric. I had a scheduled visit today and Eric was on time, very personable, and explained everything he was doing thoroughly. Eric is a fine representative of your company.…

Read more

This is my first time using your service and I want to compliment you on your good personnel. Its a really fine service that you have. I would love to have Milton back again if I can.

I just had Eric leave my house and as I'm sure you know, this guy is amazing. I've had a lot of service people in my house and he comes in and cleans up after himself, is respectful, and polite. He asks if I have any questions and always gives me…

Read more

Thanks for the info, and thanks for bringing the job to completion. Marty and Marcel took care of business, and were happy campers. It was too cold (below 45 F) for the heat pump to fire, but I'll wait for a warmer day and keep an eye on it. The 7…

Read more

Everyone has been extremely helpful, patient, knowledgeable, and competent. No matter who answers the phone, I am confident that my request issue will be promptly attended to with total professionalism. Whenever someone comes to the house to provide…

Read more

The technician did an excellent job. He was not only really good with the work that he did, he cleaned up and didnt take anything lightly, which I really appreciated.

The professionalism and expertise that I encountered from Kevin made me fully satisfied with this past Saturday's scheduled service. He explained in detail how my system works, he also pointed out the root cause of a problem I had been having and…

Read more

This letter is commending Sean. Yesterday, he came to check the furnace at my home. He is efficient and his explanations are clear. He remembers where everything is, and I absolutely trust his work. Its very nice to know that I can rely on Sean. I…

Read more

I just wanted to call to comment on Brennens performance. He came out to service my unit. Brennen was very professional and very knowledgeable. Thank you.

I just wanted to call in to say what a wonderful job Nick did over the weekend. I was amazed by the amount of time that he spent in the heat and humidity to get the unit running. I am thankful to Nick and the entire company that I had A/C over…

Read more

Part of the reason why I stick with your company is because of Sean. He takes time to explain things to me and he helped me decide which new system to get last year. He is a real asset.

You guys were the first company to figure out how to replace the units here at Governors Lane as built. Congratulations. Chris et al. were great to work with. Thank you.

Eric handled himself very professionally and took the time to listen to me. Because of his sincere interest, will be preparing a proposal to substantially upgrade our system. He seems to know his profession well and handled me in the right manner.…

Read more

I just wanted you to know that Rich is a very pleasant, professional and courteous person. All of your employees that have come here are the same. You guys must be doing something right.

Brennan performed the seasonal service on our A/C unit. We were very impressed. He took care of everything very efficiently and completely. He also quickly solved a potential problem. This is to commend Brennan for his fine work and his excellent…

Read more

You have some great people working there. They are fantastic especially Jack and Eric.

On February 26, 2007 I experienced the frightening experience of having my gas carbon monoxide detector go off. I cannot say enough to the diligence and professional manner Eric demonstrated while trouble shooting. His persistence, expertise, and…

Read more

Your guys have always been good, but these two men (Geoff and Rich) were the most polite, professional, and personable I've had. They represent your company very well.

Wanted to let you know that Eric performed yet another excellent maintenance on my contract. He has an excellent positive attitude coupled to a get it done right work ethic. It is a pleasure to have him here to take care of things. I never thought…

Read more

I am writing this letter to you to thank one of your employees. Paul noted a pin-hole leak on the side of the main water line that enters the building switchgear room. Had it not been for your conscientious employee, the consequences could have…

Read more

We returned home from a one week vacation to Aruba, at about 10:30 pm, to a 50 degree home. We had no heat. We called Princeton Air and the Service Rep was at our home within 25 minutes. Sean fixed the problem quickly. That is great service. You…

Read more

Frank and Mary, Lawrenceville

Yes, Mr. Needham my name is Samuel, I live in Hamilton, New Jersey and I just wanted to commend your staff, mainly Shelby and then the guys who came out over the last week. I was having a huge problem with my air conditioner, you guys ending up…

Read more

Scott, my name is Jean. Princeton Air was here to see me at One Marcom. You sent a representative and he was exceptional, beyond exceptional. I was very pleased with the service and he wouldn't leave until it was corrected to the utmost degree. So,…

Read more

Hi Scott, this is a customer, Karen. I had a new tech at my house this morning, and we were very pleased with him. He was very, very nice. In the past, well we've used Princeton Air at our house here, and our house before this on Courtney Drive.…

Read more

Hi Scott, it's Steve, general manager of the Nassau Club of Princeton. I just wanted to let you know on this Friday, that you know Jack's over here doing his stuff. And I can't tell you how pleased I am by signing that maintenance contract with your…

Read more

My Name is Irma, I just recently had insulation. I just want to let you know that the men who were here that worked on the house, the main two on the team were Jim and Nestor. I want to let you know that the entire team, there were other men, that I…

Read more

Hello, my name is Sunit in Flemington, New Jersey. This morning, I had your service technician come out to service my two heating units, Lennox. I can tell you in 20 years I've never seen a person showing such a professional attitude and doing such…

Read more

Hey Scott, Tom here & it's Tuesday morning. I just wanted to call to say thank you very much for having your service guy come out last night. He got there a little before 8:00, he was done about 8:45, we're back to full operating status.I think…

Read more

Mr. Needham, my name is Harriet; I am a customer of Princeton Air since I moved into Raven's Crest about ten years ago. Luckily I haven't had to have too many service calls but I did have an emergency today and within three hours of my phone call…

Read more

Scott, my name is Michael; I'm a resident of West Windsor. I just had your tune-up, I have service with you, had it for years. Just had an air conditioning tune-up this morning. The technician was Alberto Martino and he did an absolutely fabulous…

Read more

Rob and I want to thank you and Dennis, Ontrea, Francine, Chris, Marty, Mike and all of your crew for being so customer service friendly in handling our installation of our new A/C and furnace system. We can see why the original owners of our home…

Read more

Linda and Rob, Princeton Junction

I just want you to know what an excellent job your crew did installing our new Trane heating system on Tuesday morning. They arrived promptly and explained to me exactly what they would be doing. The three men worked as a team and were very…

Read more

The technician (Kevin) was wonderfully polite and respectful of my home. He was very professional, patient, thorough, and showed a genuine concern for the well-being of my family

I just wanted to call in to say what a wonderful job Nick did over the weekend. I was amazed by the amount of time that he spent in the heat and humidity to get the unit running. I am thankful to Nick and the entire company that I had A/C over…

Read more