Does your water heater need to be replaced? Consider having a tankless water heater installed by the Princeton plumbing experts! Tankless water heaters provide hot water on-demand, which eliminates standby heat loss and can help you save money. With a tankless water heater from Princeton Air, you can enjoy benefits like:
On-demand hot water whenever you need it

Better energy efficiency and lower energy costs

A compact, space-saving design

A life expectancy of 20+ years with proper maintenance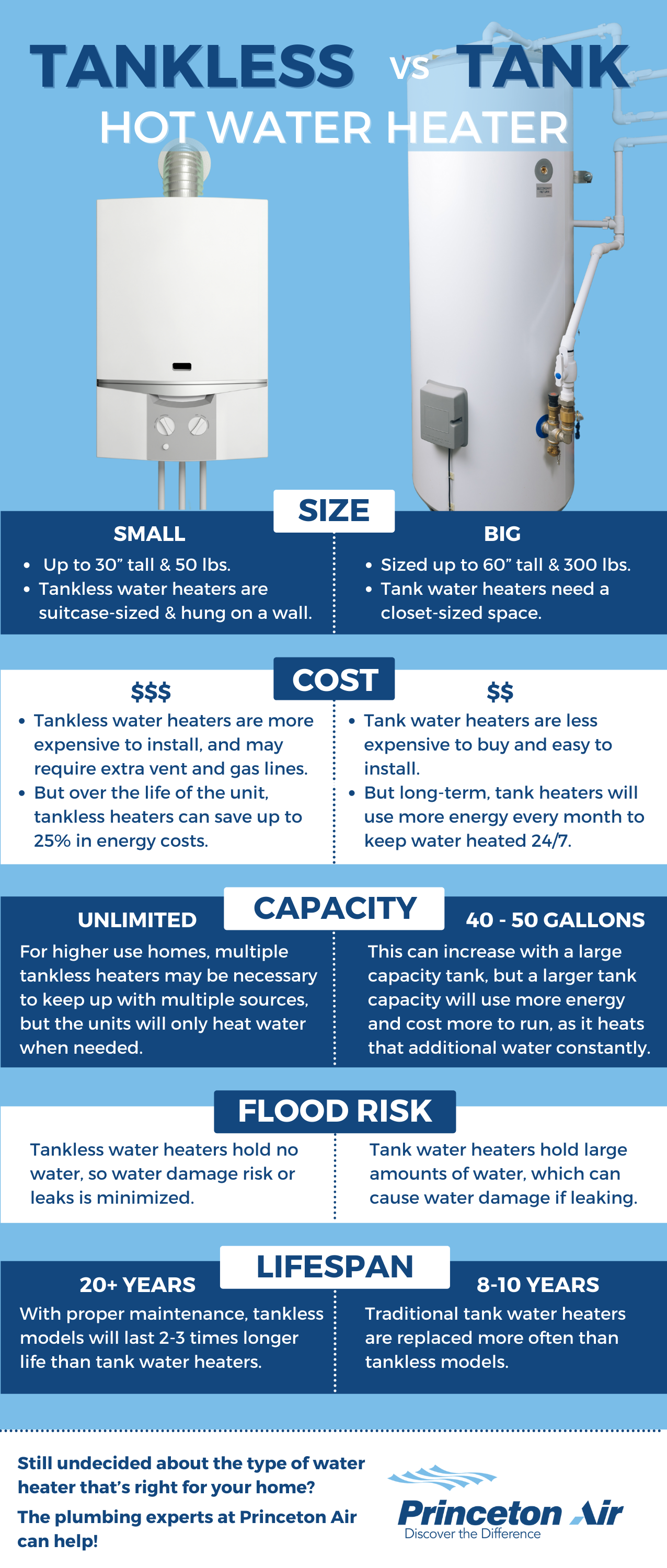 Tankless vs Tank Water Heater: What's the Difference? 

  
What's the difference between tankless and tank water heaters? Traditional tank systems heat water consistently throughout the day and store it in a large tank. Because they need to keep a full tank of water hot at all times, storage tank water heaters use up a lot of energy, which is reflected in your energy costs.
Tankless on-demand water heaters, on the other hand, only heat water when you're using it. Because of this, tankless water heaters save energy and installing one could help you save money on your energy bills every month. 
Tankless water heaters are also much smaller than traditional water heaters since they don't have bulky storage tanks, which can help you save space and makes tankless water heaters perfect for smaller homes.
Do Tankless Water Heaters Save Money? 
Tankless water heaters are typically more expensive to install than traditional water heaters. However, for most families, the investment is worth it. According to Energy.gov, tankless water heaters are 24-34% more energy efficient than conventional water heaters for homes that use 41 gallons or less of hot water per day, and 8-14% more efficient for homes that use around 86 gallons per day. The more energy efficient an appliance is, the less it costs to run, making high-efficiency tankless water heaters a great choice for your home. 
Tankless water heaters also have longer lifespans than conventional storage tank water heaters. This means you'll get more years of use out of your tankless water heater and won't have to replace it as quickly, helping you save money on replacement costs in the long run. 
Princeton Water Heater Installation & Maintenance Services 
Looking for water heater installation near you in Mercer, Middlesex, Somerset County New Jersey, or in Bucks County Pennsylvania? Princeton Air is the company to call! We've been serving local homeowners for years and can help you choose the right type of water heater for your home. We also offer preventative maintenance to keep your tankless unit running smoothly and efficiently.  
As a full-service plumbing company, Princeton Air offers a wide range of plumbing services in addition to water heater replacement and maintenance—you can call us for toilet replacement and so much more! And, we can help with financing and rebates to make your plumbing service as affordable as possible. 
Looking for a plumber near you for tankless water heater installation or maintenance? Call Princeton Air at (609) 799-3434 or contact us online to schedule service.
Don't just take our word for it, see what our customers have to say about our exceptional service!